Purse Gummy® Accessory Set of 6 Pieces Variety Pack - GLOSSY BLACK 3 Pieces, SEMI-CLEAR 3 Pieces
Regular price

$13.95 USD

Sale price

$12.95 USD

Unit price

per
💛Stop Strap Slips; Keep your bag secure and comfortable on Your Shoulder, NOT on unhealthy surfaces; Simple friction keeps your bag in place on your shoulder.
Grippy, concealed silicone strip.  Prevents your bag strap from slipping. Adheres to the underside of your strap. Virtually undetectable when wearing your bag. Durable. Long-lasting.  Simple peel-and-stick application.  Removable if desired.
Each Purse Gummy® piece is glossy black or semi-clear and measures approximately 7/8 inch wide x 5 inches long.
For use on up to 6 purse or shoulder bag straps. 
Purse Gummy® pieces are packaged in three rows of two deep (total of 6 pieces) with white removable backings.
Each set of 6 pieces will be neatly packaged and suitable for gift-giving.
FREE SHIPPING within the U.S.A! 
Share with friends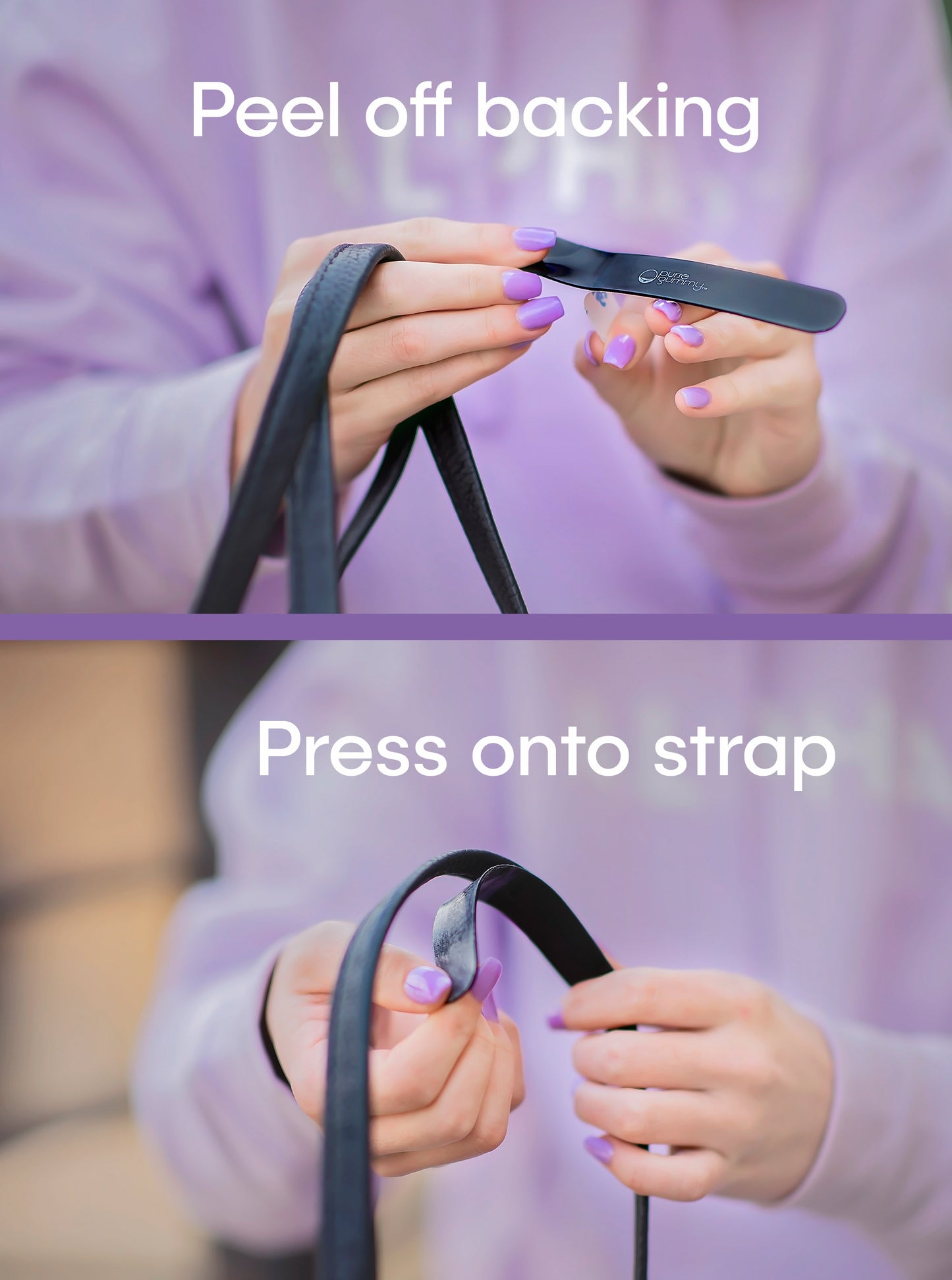 Great
I purchased my first set some time ago and loved it. I just recently got 4 more for my friend and relatives as a great practical presents. Everyone is hooked now.
Thank you for producing such a great simple solution to common problem.
Katerina
Loving purse gummy.
Hold the purse in place and does not fall off the shoulder.
Finally. No more slipping purse straps.
The strap gummy is ingenious! My purse straps were constantly slipping off my shoulder. For several months recently I had to use a cane. Do a cane in one hand and a constant battle with my shoulder purse almost brought me to tears. The strap gummy is invisible and now my purse strap does not budge. I love it so much that my sister just ordered a pack. Wish I had discovered this product a long time ago.
Good Product didn't work well for me
Product is easy to apply and bag slippage was cut by I'd say 60%. Did think cost was a bit high but in fairness I don't know manufacturing/material costs.
My pocketbook finally stays on my shoulder.
I have a very short shoulder and have never been able to prevent a bag from falling down no matter how small the strap is. This product does exactly what it says it will do. I put two of them on just to make sure. My bag has a pretty wide strap which normally I would never be able to use. I am extremely happy with this product and I'm glad there's an extra set for me to use on my other bags. I would recommend this highly.