Strap Gummy® - Prevent Strap Slips - The Original Non Slip Shoulder Strap Grip Strips – Set of 4 - Large Black
Regular price

Sale price

$13.95 USD

Unit price

per
Description :
Strap Gummy® is a grippy, semi-clear silicone strip which discreetly adheres to the underside of virtually any shoulder strap. Simple friction prevents the strap from slipping off your shoulder as you go about your day!
The Strap Gummy® in the simple, inexpensive solution for everyone and their tote bags, handbags, diaper bags, purses, etc. Refresh your bag collection and use your forgotten bags you put away because of slippery straps.
We understand! Often a customer purchases a fashionable bag without completely testing the bag for its comfort. One might later discover that the bag has an annoying tendency to "slip away" off her shoulder. 
Features:
Color

: Large Black

Stop strap slips! As featured on Kathie Lee & Hoda TODAY show! Strap Gummy® is a silicone strip specially designed with a high coefficient of friction to prevent all types of straps from slipping off your shoulder. Keep Your Straps and Bags Secure on Your Shoulder, NOT on other surfaces; Simple friction keeps your strap in place.

Strap Gummy® will adhere to virtually any flat strap. It works on handbag straps, guitar straps, backpacks, bra straps, diaper bags; on materials including leather, nylon, microfiber, synthetics, suede, fabric, vinyl, etc.

Strap Gummy® is completely hidden underneath your strap. Thus no worries about changing the appearance of your strap or bag.

Strap Gummy® is available in a pack which contains 6 semi-clear pieces. Size Small - 5 inches long by 7/8 inch wide. Strips are designed fit flat straps one inch or wider. It can also be cut to size if necessary to fit narrower straps.

Strap Gummy® is designed to be durable and resistant to peeling off the shoulder strap.. It adheres to the underside of the strap using a simple peel-and-stick method; easily removes from strap surface if you desire; assembled in the U.S.A.
Share with friends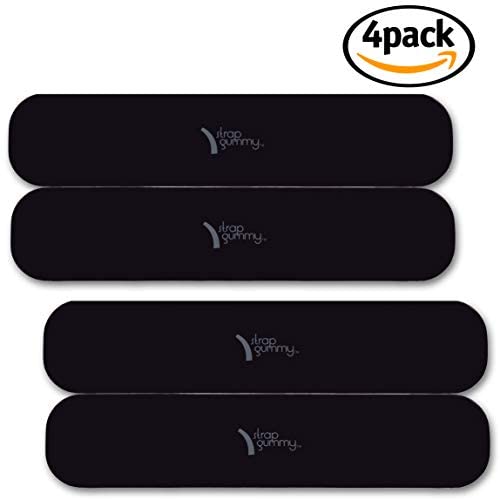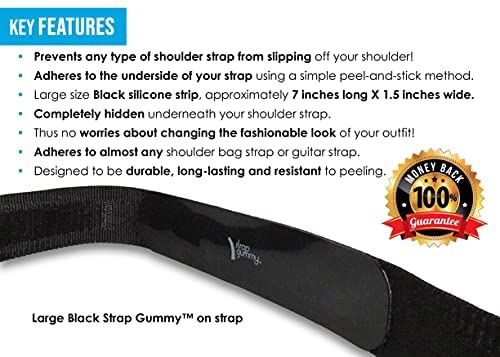 Works perfectly!
I almost gave up my messenger bag because of a really slippery strap. This product changed this, and I can now use my messenger bag every day without any problems. The buying experience was also top notch, and shipping went smoothly.
I really recommend this great product and company!
Fit my need perfectly
I bought a side bag for work that had a very slick pad section that made the bag useless in it's current form. I got the Strap Gummy after seeing that this seemed to be the only product that might help. After I got it, it worked absolutely perfectly and made the bag fully useable. It's not just for purses!
Thanks so much for your excellent product.
Fabulous
life-changing ! The annoyance of the bag that slips odd off 459 times a day gone! Exellent, will be ordering many more
Did not believe this would work
I found the perfect size/material/weight/style backpack but the strap was sooooo slippery. I felt like I was walking around with my shoulders bunched around my ears. Til I read about this. And thought-there's no way this will work. But I liked my backpack so much I figured I'd give it a whirl. That was March. Just days away from June and Holy Bleep-it's a must have go get one now game changer!!! No slipping no sliding no hassle! Genius!
IT GRIPS!
Works great on my backpack. Get you some!