Strap Gummy® - Stop Strap Slips - Shoulder Strap Grip Strips Non Slip - Set of 6
Regular price

Sale price

$13.45 USD

Unit price

per
🔹Stop strap slips! As featured on Kathie Lee & Hoda TODAY show! Strap Gummy® is a silicone strip specially designed with a high coefficient of friction to prevent all types of straps from slipping off your shoulder. Keep Your Straps and Bags Secure on Your Shoulder, NOT on other surfaces; Simple friction keeps your strap in place.
🔹Strap Gummy® will adhere to virtually any flat strap. It works on handbag straps, guitar straps, backpacks, bra straps, diaper bags; on materials including leather, nylon, microfiber, synthetics, suede, fabric, vinyl, etc.
🔹Strap Gummy® is completely hidden underneath your strap. Thus no worries about changing the appearance of your strap or bag.
🔹Strap Gummy® is available in a pack which contains 6 semi-clear pieces. Size Small - 5 inches long by 7/8 inch wide. Strips are designed fit flat straps one inch or wider. It can also be cut to size if necessary to fit narrower straps.
🔹Strap Gummy® is designed to be durable and resistant to peeling off the shoulder strap.. It adheres to the underside of the strap using a simple peel-and-stick method; easily removes from strap surface if you desire; assembled in the U.S.A.
Share with friends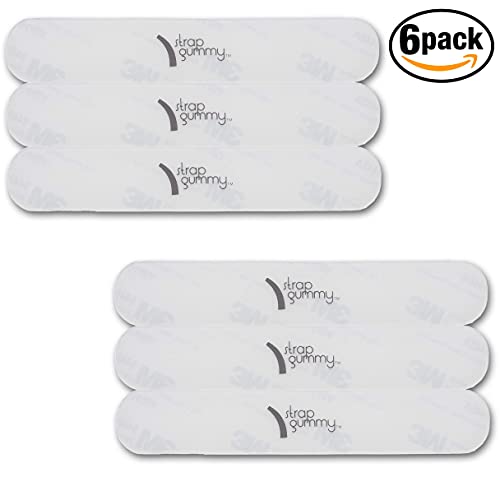 Works great!
The strap grips make my tote bag so much more comfortable and functional to wear - very pleased!
Love!
I understand the strap grip is suppose to go underneath the purse strap, however, I used these on my dress! I bought a dress for a wedding and even after getting my dress altered, the straps still didn't sit very securely on my shoulders. I decide to add the grips to underneath my dress straps and never felt more secure, it was perfect!
No shoulder bag slip
A forever hassle is no more.... my shoulder bags stay where I put them. Shopping and just walking are easier as my hands are not constantly readjusting my bag strap. GET THESE!
They work!
I have sloping shoulders and keeping a purse in place is difficult at best. Saw these awhile back and got some to try. THEY WORK! No matter what type of strap it STAYS IN PLACE!
sticky!
PRO:Sticks to your shoulder! :DCON:Sticks to your hair! D: